The air at Wild Mountain was filled with excitement, nerves, and an adventurous spirit as participants geared up for the 2023 Rugged Maniac Twin Cities that took place on Saturday, Sept. 9, 2023. And among the crowd of enthusiastic adventurers, was our very own brave group of Cybertrol employees—ready to take on the challenge.
For those who aren't familiar with the Rugged Maniac, it's no ordinary 5K race! It's a challenging obstacle course that tests physical strength, endurance, and mental toughness. With teamwork and perseverance, our group scaled walls, crawled through mud, and even jumped over fire. These challenges were met with cheers and encouragement, not just from our group but from fellow Maniacs as well. Every slip, every splash of mud, and every triumphant climb made this event unforgettable.
This isn't the first time that a group of Cybertrol employees has participated in this type of event. "It started last year with the Tough Mudder", said Nick Bertram, Applications Engineer and organizer of this year's Rugged Maniac and last year's Tough Mudder. "It looked like a 'fun for all' event in hopes of getting some people together who would not normally consider an event of this style. Also, provide some motivation as something active to look forward to and potentially even train for."
Participating in events like the Rugged Maniac and Tough Mudder is not just about testing physical limits; it's also about fostering team unity and enhancing employee camaraderie. Crossing the finish line as a team serves as a landmark moment for our company culture, setting the tone for the teamwork, resilience, and leadership that we value. Here's to many more challenges conquered together!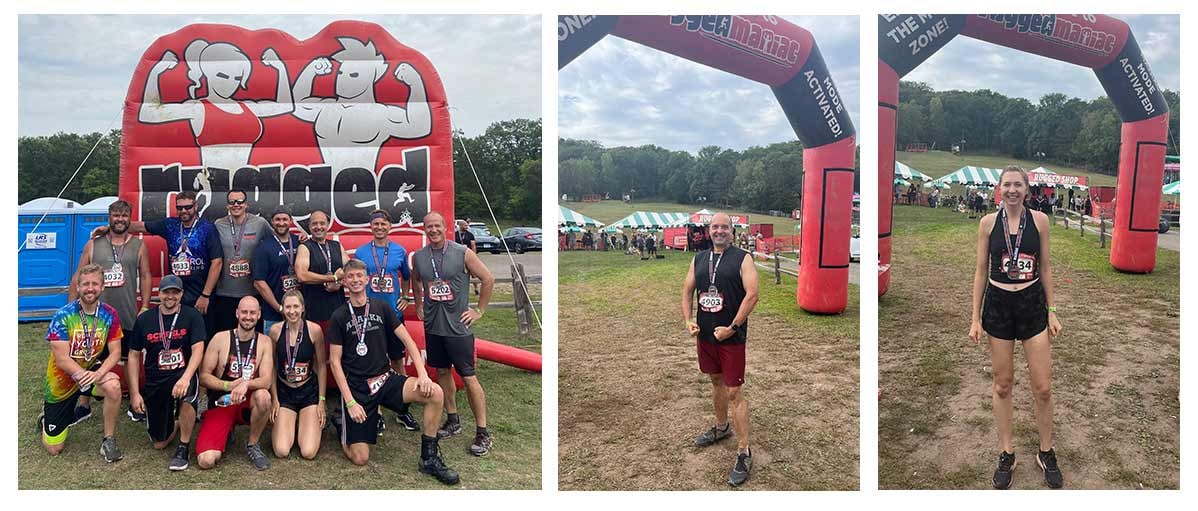 Here's what some of our Cybertrol Maniacs had to say about the event:
"These are such fun events. I have been motivated to push my limits and fears around these Ninja Warrior type of activities and grow with them physically and mentally."

– David Lanza, Principal Automation Engineer
"I had a great time representing some girl power on the course and completing the race as a Cybertrol team! It's an awesome opportunity to experience the team aspect of Cybertrol culture."

– Lauren Drankoff, Project Manager
"As someone newer to the company, it's a great way to socialize and meet coworkers outside of our daily work life. It's also exemplifies the culture of the company. Everyone pushing each other and supporting each other throughout all the obstacles. Both apply to our work and the Rugged Maniac."

– Shane Kucharczyk, Automation Engineer
"From the day-to-day hustle and flow of the office life. It was fun to get out and push and motivate each other in an active way and #STAYRUGGED!"

– Mike Hyer, Applications Engineer
"It is a joy to work at a company that sponsors these team-building activities, and to have so many colleagues who participate!"

– John Tertin, Director of Solutions Engineering
"It's fun getting to do things outside work with coworkers and really push the culture that I have always enjoyed here."

– Tyler Todd, Sr. Manufacturing Intelligence Engineer
To the brave employees from Cybertrol who participated, and to all the Rugged Maniacs out there, congratulations on your achievements and may you continue to inspire us all!