Cybertrol Engineering, a nationwide provider of plantwide control systems and information integration solutions, has expanded its team, invested in research and development, and achieved a 50% growth in revenue over the past year due to its innovative solutions, dedicated team of professionals, and around-the-clock customer service.
Minneapolis, MN - February 27, 2023 - Cybertrol Engineering, the industry-leading provider of plantwide control systems and information integration solutions is proud to announce an exciting year of growth and success in 2022. To meet the demand for its plantwide automation, manufacturing intelligence and control systems design services, the company has expanded its team which now includes upwards of 160 employees working across 15 states. Cybertrol Engineering attributes its remarkable 50% growth in revenue over the past year to innovative solutions, a dedicated team of professionals and around-the-clock customer service.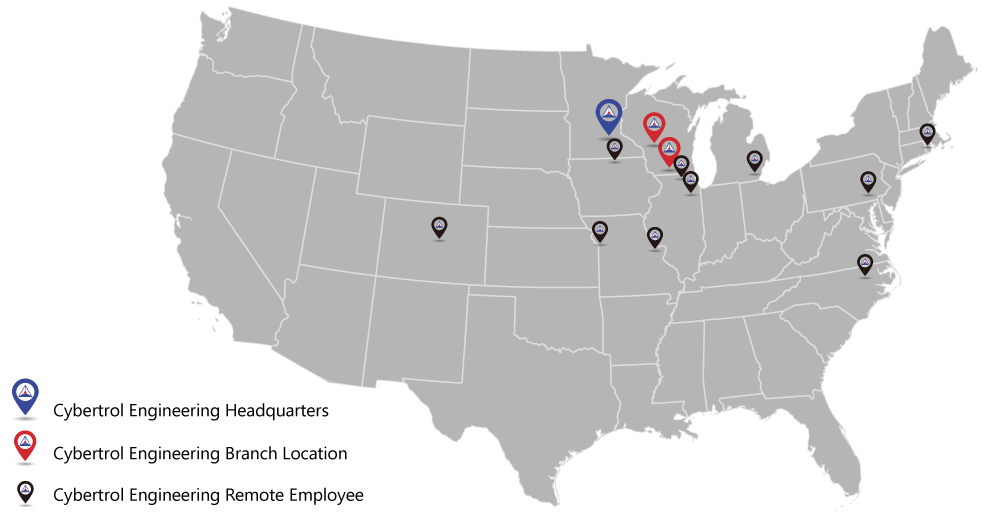 Over the past year, Cybertrol has invested heavily in research and development efforts, resulting in the creation of new products and services that have attracted a wide range of clients across industrial and manufacturing industries. The company has also expanded its team of highly-skilled engineers, ensuring it has the capacity and expertise to take on complex projects with a focus on providing service and support for clients.
"We are thrilled to have achieved such a significant year of growth," said Ben Durbin, president of Cybertrol Engineering. "Our team's commitment to excellence, dedication to innovation, and a relentless focus on delivering exceptional service has been the driving force behind our success. Our proudest point is our employees."
The company's success in 2022 has been marked by a series of notable achievements. Cybertrol Engineering has been recognized on the 2023 System Integrator Giants list by CFE Media, an effort to celebrate top control system integration companies globally. Additionally, the company was named the 2023 PartnerNetwork™ Sustainability Award winner by Rockwell Automation for their collaboration with Meati, an alternative protein producer. The Cybertrol Engineering team showcased the latest PalletWorks 2.0 end-of-line labeling and tracking software at the fall 2022 PACK EXPO International in Chicago where they demonstrated the product's ability to bridge the gap between the manufacturing floor and the ERP system. Throughout these milestones, the company has deepened its relationships with existing clients, successfully completing several high-profile projects on time and within budget.
Looking ahead, Cybertrol is poised for continued growth and success in the coming years. With its unwavering commitment to delivering exceptional service and innovative solutions, the company is well-positioned to meet the evolving needs of its clients.
"We are excited about the future and the opportunities that lie ahead," said Ben Durbin. "We will continue to invest in our people, our technology, and our processes to ensure we remain at the forefront of engineering excellence."
About Cybertrol Engineering
Founded in 1996, Cybertrol Engineering is a nationwide CSIA certified control and information systems integrator that develops, implements, and supports plantwide automation systems, industrial IT/OT networks, and manufacturing intelligence solutions. With a plantwide approach, Cybertrol helps manufacturers deliver appropriate information to all users, allowing facilities to run at maximum efficiency, with the greatest visibility for corporate, management, and plant floor operations. With a deep history in manufacturing intelligence, Cybertrol's solutions help clients across industries like dairy and cheese, food and beverage, industrial, and life sciences effectively view and analyze operations by providing plantwide information systems at each site, aggregating data for enterprise dashboards, and implementing proven manufacturing intelligence strategies. For more information, visit Cybertrol Engineering's website, LinkedIn, Facebook, Twitter and YouTube.