In 2021, Rockwell Automation launched a new System Integrator (SI) Program as part of their PartnerNetwork™ that delivers dedicated SI enablement, rewards a partner's performance, and provides top partners with more substantial benefits and higher recognition. The former program of Recognized System Integrators and Solution Partners was phased out and replaced by a new tiered program model—Bronze, Silver, Gold, and Platinum—that reflects partner competence, revenue performance, and strategic alignment with Rockwell Automation.
Prior the roll-out of the new System Integrator Program, Cybertrol Engineering was a Rockwell Automation Solution Partner. Since the launch of the new program, Cybertrol is now a GOLD Level System Integrator Partner having achieved a higher level of sales success and meeting the requirements of three or more competencies of the program including Control (Control), Information (Analytics), and Process (PlantPAX).
See our profile on the Rockwell Automation Partner Locator.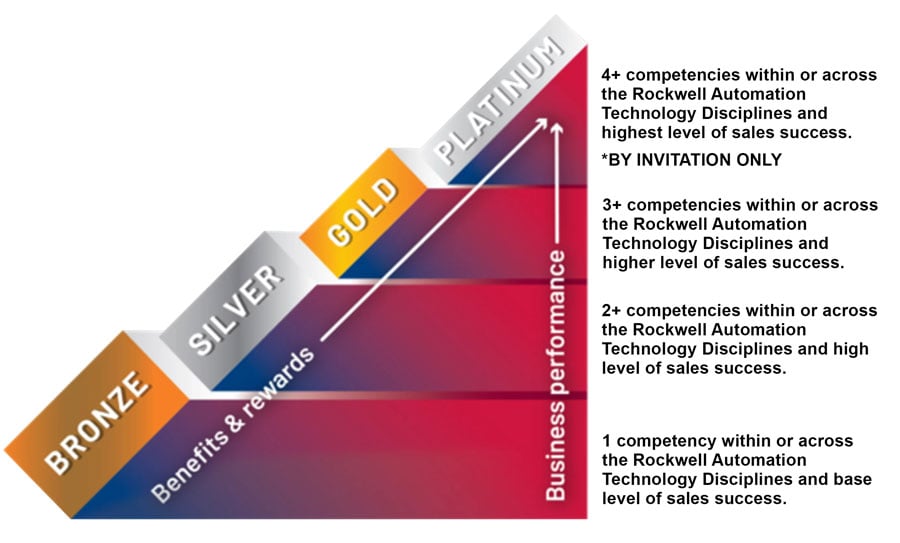 Image: A snapshot of the eligibility requirements, by partner level, that a system integrator must meet to become a member of the program.
Program Eligibility Requirements
Rockwell Automation System Integrator partners are distinguished based on the tier they qualify for. Participants in the program can qualify for any combination of disciplines that are appropriate for the markets they serve. To achieve a capability, a system integrator must complete the competency curriculum that has been established as part of the program.
Cybertrol Engineering's GOLD Level Competencies
GOLD Level Requirement: 3+ competencies within or across the Rockwell Automation Technology Disciplines and higher level of sales success.
Image: Cybertrol Engineering's achieved competencies outlined in red.
Cybertrol's Control Capability reflects our expertise in delivering solutions leveraging Rockwell Automation's Allen-Bradley Programmable Controller product offering: Large PLC Control Systems, Small PLC Control Systems, or Micro PLC Control System.

Control - The process of setting up the mechanics and base of a control system where inputs get digested and logic becomes contained to force outputs. Any control system is making decisions based on what it's programmed to do.



Cybertrol's Process (PlantPAx) Capability supports our expertise in delivering process solutions leveraging the tools and techniques offered by Rockwell Automations PlantPAx solutions.

PlantPAx is the Rockwell Automation modern distributed control system for large, medium, and small applications. It is hardware and software that scales to your needs and is a characterized system that delivers known performance by providing guidelines and reference manuals to size and build your PlantPAx system. PlantPAx is the only process automation system capable of managing the entire range of automation applications, including motion and drive systems, and was built for plantwide process and batch control.

Cybertrol's Information (Analytics) Capability signifies our expertise in delivering state-of-the-art information solutions using the Rockwell Software FactoryTalk® suite of products (e.g. Manufacturing Intelligence, Overall Equipment Effectiveness, Historians, Manufacturing Execution Systems, etc.)

Edge Analytics - This capability focuses on FactoryTalk Analytics Dataview and FactoryTalk Analytics Edge Gateway.

FactoryTalk Analytics DataView improves productivity and efficiency across your operations by delivering insights faster, whether from a single system or multiple systems and applications.

FactoryTalk Edge Gateway software addresses industrial data challenges, unlocking actionable plant and enterprise-level insights to accelerate IIoT digital transformation. It simplifies and automates collection, contextualization, and organization of industrial equipment data across machines, devices, and automation assets at the source itself—enabling high data integrity from the outset. It provides the right foundation to drive edge-to-cloud IT/OT convergence at the enterprise level so that everyone from the shop floor to the top floor can make smarter decisions.
Why is the System Integrator Partner Program important to Rockwell Automation?
Rockwell Automation Partner Programs have been integral to the success and strategy of the business for more than 100 years. The PartnerNetwork provides customers with an integrated team of engineering specialists and suppliers that are leaders in the automation and manufacturing industry. PartnerNetwork program members are prominent companies that have experience delivering products or services that are designed to work with Rockwell Automation solutions. A collaboration among members helps to streamline your supply chain, simplify project implementation, and provide the greatest value for your automation investment.
"Several decades of partnering with Rockwell Automation has allowed Cybertrol to offer our customers truly best practice solutions combining Cybertrol's extensive knowledge of processing equipment and systems with Rockwell Automation equipment and software to deliver solutions that maximize manufacturing performance," said Ben Durbin, president of Cybertrol Engineering. "Maximizing manufacturing performance is part of our mission statement at Cybertrol – its our promise to our customers."
The System Integrator Partner Program brings robust commercial and technical enablement to maximize System Integrators' skills, recognize and reward System Integrator performance, and provide the ability to find the right System Integrator for a project to meet customer needs and achieve mutual success.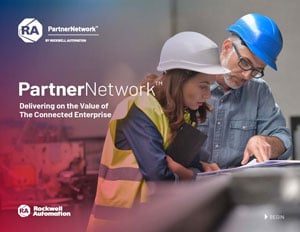 Click on the image to view the PartnerNetwork brochure from Rockwell Automation.
Cybertrol Engineering has the Rockwell Automation experience to design, build, install, maintain, and support your automation solutions. Contact us today and tell us about your project.