Facility modernization starts with the idea of continuous improvement, which the American Society for Quality defines as "the ongoing improvement of products, services, or processes through incremental and breakthrough improvements." One of the key words here is 'ongoing'. Having a plan for the future of a manufacturing facility is essential to maintain continuous progress.
Industrial manufacturers have different strategic priorities. For example food and beverage producers may have goals for increasing volume, adding product lines, increasing yield, improving quality attributes of their products, and enhancing operator safety are just a few that we have encountered. The challenge is developing a good road map that can provide useful direction.
Undergoing a facility modernization assessment can help you define where you are, where you want to be, and how you're going to get there. An outside consultant—like Cybertrol Engineering—who is familiar with the industry and your specific processes can help facility managers and other personnel see the broader picture, pin down your organization's goals, and help you form a plan of action. Facility retrofits and refurbishments are among our core competencies as a system integrator within the food and beverage industry to update equipment and processes with minimal downtime.
Control systems and production environments are growing in complexity. There is value in leveraging the industrial internet of things (IIoT) or integrating with manufacturing execution systems (MES) or enterprise resource planning (ERP) systems, but realizing that value can quickly become complicated and expensive. The challenges are quantifying the value potential associated with using this technology in any given facility and determining how to implement it in a manageable way. Each facility will realize this value at a different pace; some may do it all at once, while others may start by simply replacing legacy equipment as the first step of a longer-term plan.
Facility modernization doesn't require a rip-and-replace approach. It can be an iterative process that allows manufacturers to evolve and reach a desired future state, all while keeping operations running smoothly. Each facility and company are unique, which calls for each one to follow an exclusive plan.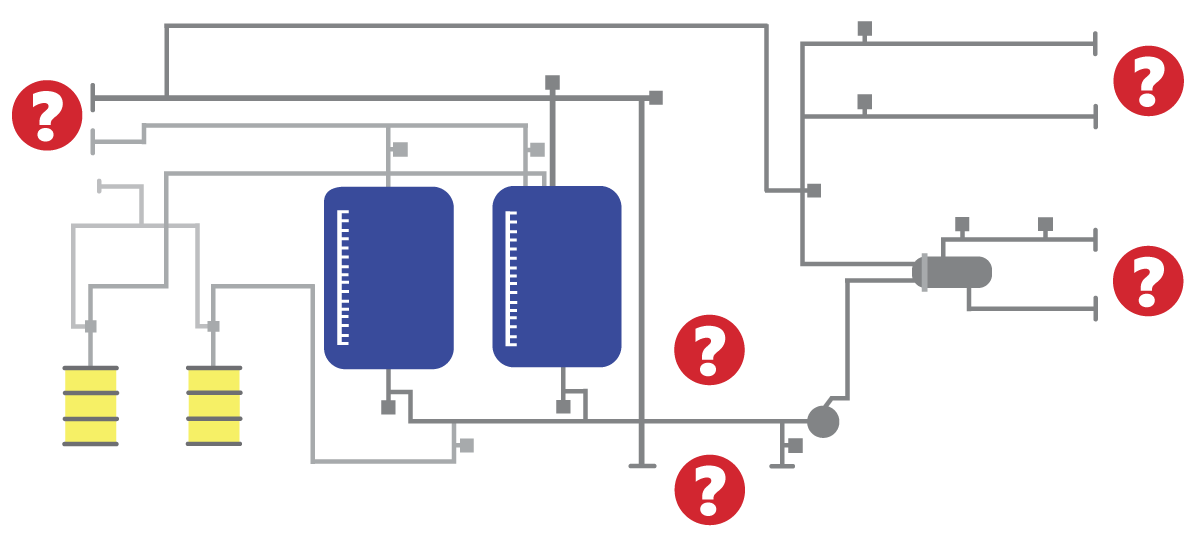 Why Discussion Facilitation Matters
User groups and stakeholders need to be involved when planning for the future. It's important for them to participate in a conversation about the long-term strategic plan for the business. The problem is that these disparate user groups—having vastly different experiences and expertise—rarely participate together in these discussions. Although they may have something in common with their experiences, true connections are frequently missed or unaddressed.
As your facility modernization consultant, Cybertrol Engineering brings maximum value to the conversation by making these connections. We promote discussions with several user groups to identify where improvement is needed. This requires participation from a broad spectrum of the organization—from operators to senior management, and even IT. Initial conversations are held separately with each of the user groups. After collecting information from individual groups, Cybertrol then classifies the common or closely related concerns from across the organization.
For example, an operator's comment about the amount of time it takes to stage materials during production could be related to a production manager's throughput concern, as well as the Vice President of Operations' desire to improve First Expired, First Out inventory control practices.
After these conversations take place, and credibility is established on all sides, Cybertrol will conduct a "what I heard" meeting with everyone in the room. This is also when budget and timeline constraints are identified. It's critical that we speak directly to the interests of all stakeholders, including operators. Their use of the system provides much of the information needed by others, such as maintenance and IT resources who will support the system post-deployment, and management resources who will leverage the new information the system provides to better manage the business.
Cybertrol's assessment approach is designed to encourage teamwork from across an organization. Everyone has a different perspective, mindset, and opinion of how things work or what adds the most value to an operation. A maintenance worker, a QA Manager and a Director of Finance will all provide unique perspectives. That's why it's necessary to engage an independent expert to meet with each group during the assessment and apply their knowledge of manufacturing, process, and technology to identify what the user groups have in common and assemble the road map.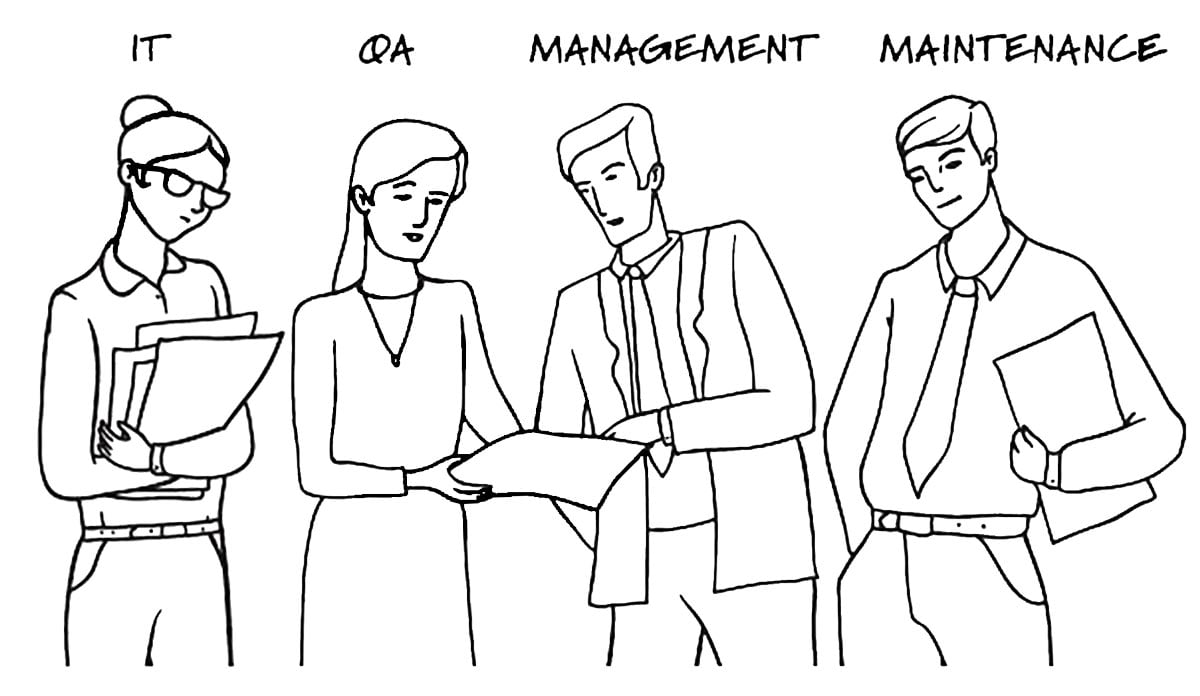 The purpose of the site and process review is to identify all the moving pieces. It is an important prerequisite to developing a road map to the future – a strategy where everyone is involved, and the created plan is followed.
The review of the current installation will document the existing processes, equipment, and components being used at the facility.
Questions may include:
How old is the facility?
What legacy hardware exists, and is there value in updating it?
Are legacy networks like DeviceNet, ControlNet, or Modbus being used?
Is an Ethernet network in place for all or part of the control system?
Is the Ethernet network isolated from other networks at the facility?
What bottlenecks exist within the process?
What part of the process takes the most time?
What part of the process is the most labor intensive?
What regulatory requirements does the facility need to comply with, and what is their current process for doing so?
How does the facility manage both raw material and finished goods inventory?
What are the leading sources of raw material and product loss?
To what degree does production rely on the institutional knowledge of senior employees?
How many shifts are staffed, and what duties are performed on each shift?
Is additional information needed to make better decisions?
As your modernization consultant, Cybertrol will conduct a tour of the facility to examine the past and present infrastructure and determine what equipment and process updates provide the most value. This is more than a legacy hardware discovery exercise – it is a deep-dive into the process itself and an opportunity to identify solutions to many of the above problems. The goal is to quantify current constraints, losses, manual processes, and risks so that solutions to support operational efficiency and decision-making may be conceptualized.
The Modernization Plan
Cybertrol will then present a modernization plan, which is the documented output of the assessment that breaks down what's needed, establishes a timeline to implement, and confirms the budget. It is a recap of where you've been, where you're headed, and identifies the next steps to get there. ROI estimates based on information gathered from both your team and the site review are also included to assist with the decision-making process.
The plan will provide information on the current infrastructure and processes of the facility, describe Cybertrol's recommendations for possible changes and explain the benefits of following the suggested plan.
For example, there may be a stand-alone machine in the facility that is capable of providing useful information. The simple effort of connecting this equipment would provide real-time insight and allow decisions to be made faster, resulting in improved production volume, quality and yield.
Sometimes there may be an element that is central to the overall plan, such as the deployment of a plantwide Ethernet network, but it may not be the right decision at the time; perhaps other items with high ROI need to be addressed first in order to finance the larger items. This is why a suggested timeline is provided. The timeline provides suggestions on when to start upgrading "machine A", next year start "process B", and so on, all with the goal of keeping your facility running and minimizing downtime. This timeline also allows you to plan and budget accordingly.

The Benefits of Facility Modernization
The true benefit of Cybertrol's facility modernization assessment is enlisting an experienced professional to come into the facility and develop a plan. We have a team of experts is dedicated to the food and beverage industry. Their experience is broad and their knowledge deep when it comes to producing safe, high quality foods and beverages.
The facility modernization conversation creates buy-in from different positions in the company, (leadership, operations, engineering, IT, etc.). Everyone has the opportunity to contribute, has ownership of the outcome, and is motivated to see it through.
A company or facility may move away from legacy systems and processes and upgrade in a deliberate, planned manner. These upgrades allow for faster and better decision-making based on improved access to information. Big data is a big topic; you need the correct instrumentation, network, control system, and reporting tools working together to generate, collect, and record the data. Cybertrol's Manufacturing Intelligence group can help you implement solutions to transform that data into information using integration and reporting tools which can tie into other systems at the facility and provide actionable information to all roles within a facility in a concise, meaningful way.
Take the first step in making continuous improvement part of your process and contact us to schedule a facility modernization assessment.