Imagine you've spent a significant portion of your budget and valuable time planning a manufacturing execution system (MES) that helps you and your team to ensure smooth operations. You've begun automating end-of-line production tasks, such as palletizing, shrink wrapping, labeling, and movement within your facility to minimize the potential for human error. You begin to implement your new, fully integrated MES and everything seems to be running efficiently, until on the third day of operations, you start noticing discrepancies in your inventory. You go to fulfill an order and find that an entire pallet is unaccounted for – what do you do? You'll have to put additional manpower toward satisfying this order, diverting it from other important production. Automation of end-of-line tasks was supposed to prevent this from happening, wasn't it?
Automation is Not Equivalent to Integration
Automating your end-of-line processes tasks can greatly improve the efficiency of your operations, improve consistency, and reduce human errors. However, some tasks still require manual input from your operators. There are several opportunities for mistakes in the manual components of your end-of-line operations. For one, you have multiple people involved in these tasks, who all have their own metrics to report and key performance indicators (KPIs) by which they are measured. It's natural that each operator would want to do everything they can to meet those goals – even if it means cutting corners that may cause errors down the line.
Another potential source of errors is that end-of-line production tasks are often based on assumptions made from the day's production schedule. But how do you know whether those assumptions are accurate? Errors can also be introduced when a pallet is only partially filled at the end of a production run or a shift. Unless the operator goes back to update the ERP system and correct the product quantity, it could be counted as a complete pallet.
How Can You Integrate Your End-of-Line Production Tasks?
Cybertrol Engineering has developed a comprehensive hardware and software solution, called PalletWorks, to help you integrate end-of-line tasks with your existing control, ERP, and warehouse management system (WMS). PalletWorks provides real-time data and visibility into all your end-of-line production tasks, from labeling to inventory location. By integrating with your ERP system, end-of-line production tasks are no longer based on assumptions about production schedules, but instead based on verified data from your MES, allowing for both better informed and more self-sufficient operations.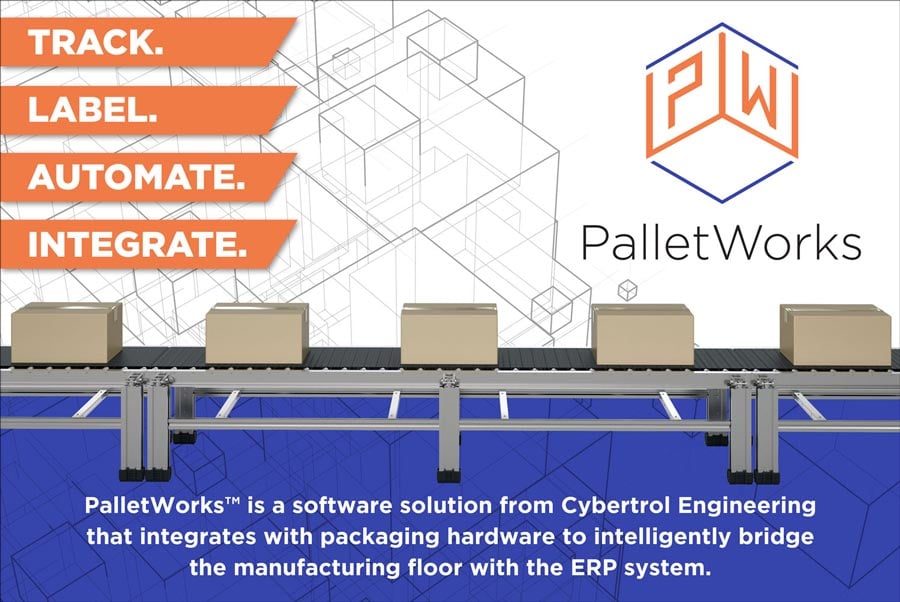 PalletWorks also provides visibility into production and exceptions at the equipment level. Because of its integration with your control system, it not only alerts you of errors, but also provides you with the capability to address them. By integrating PalletWorks across your MES, control, and inventory systems, you can get the capabilities of design-build specification, labeling software and ERP/WMS integration, and controls integration from one partner.
Even the most well-planned MES can lose efficiency in end-of-line production tasks. With PalletWorks, you can address potential errors with a fully integrated platform.
Download our whitepaper, "Optimizing Operations by Streamlining End-of-Line Packaging Tasks" to learn more about how Cybertrol's engineering expertise and the flexible PalletWorks platform can be customized to your processes and challenges.