Cybertrol Engineering has been a member of the Control System Integrators Association (CSIA) since November 2006 and has been CSIA Certified since September 18, 2019. We are currently preparing for our re-certification audit, which is required every three years and conducted by an independent third-party consulting firm, scheduled in September to extend our Certified Member status through 2025.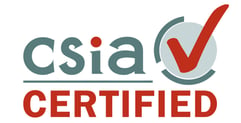 What is the Control System Integrators Association (CSIA)?
Founded in 1994, the CSIA is a global, non-profit professional association with a mission to advance the industry of control system integration. Control system integrators use their engineering, technical, and business skills to help manufacturers automate and control their processes. CSIA helps members improve their business skills, provides a forum to share industry expertise, promotes the benefits of hiring a certified control system integrator, and provides its members with information and training to help them adapt to new business requirements.
What is CSIA Certification?
CSIA Certification is a program that has been available to CSIA members since 2000. It is uniquely designed for control system integrators and identifies a long-term commitment to quality, continuous improvement, and longevity in the industry. It is a mark of excellence for any professionally managed control system integrator. Cybertrol's CSIA Certified Member status demonstrates that we operate within the best practices and benchmarks defined by the industry experts.
The CSIA Best Practices and Benchmarks Manual
A Comprehensive Quality Management Guide for System Integrators
CSIA members follow the CSIA Best Practices and Benchmarks Manual, which sets the standard for successful management of a system integration company. Currently on version 5.0, the manual is tested and updated on an ongoing basis by a committee of CSIA members, auditors, and clients as part of a continuous review and improvement process.
Of the 300 guidelines documented in the CSIA Best Practices and Benchmarks Manual, a system integrator must meet or exceed 79 audit criteria in ten key areas to become CSIA Certified, including:
General Management
Human Resources Management
Marketing, Business Development, and Sales Management
Financial Management
Project Management
System Development Lifecycle
Supporting Activities
Quality Management
Service and Support
Information Systems Management and Cyber Security
Businesses that rely on industrial automation for success are increasingly realizing the value of working with a CSIA Certified system integrator. And some automation vendors are even requiring CSIA Certification in order to be recognized in the top tier of their system integrator partnership programs.
According to Jose Rivera, CEO of CSIA, "Industry clients look to CSIA for qualified system integrators. CSIA Certification provides a standard approach to project management, offers financial benchmarks, quality assurance management and other business aspects. For plant managers, directors of quality assurance, and other company leaders, certification is a pre-screening mechanism that saves them time in their search and reduces risk," says Rivera.
CSIA vs. ISO Certification - What's the Difference?
ISO 9001 is another certification that many people are familiar with. While it may be more widely recognized, ISO 9001 applies to a wide range of industries and focuses on product quality and customer satisfaction. CSIA Certification serves a different purpose and is specific to control system integrators. It is a quality system that offers a more in-depth analysis of the overall operation and management of a system integration business.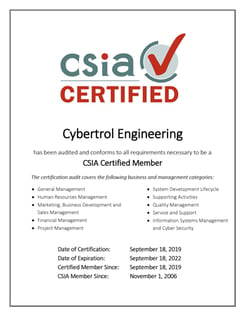 Maintaining our CSIA Member Certified status is crucial, and we take the process very seriously. It shows our employees, customers, and industry partners that we are on a path of continuous improvement and committed to our growth as a company. Businesses that choose to work with a CSIA Certified system integrator such as Cybertrol, can be confident that proper business processes are in place, documented, and followed to ultimately reduce project risk and increase the probability of success.
Contact us today to make sure your next control and automation project is a successful one!