Tim Barthel, vice president of automation solutions at Cybertrol Engineering, sheds light on the key considerations when determining when, where, and what to automate in older food manufacturing facilities. Barthel's guidance, along with that of other industry experts, can be found in full in Food Engineering's article on automation solutions.
Article by Cybertrol Engineering's Vice President of Automation Solutions Tim Barthel
In today's ever-evolving food processing landscape, automation plays a pivotal role in improving efficiency, enhancing product quality, and addressing labor shortages. In many cases, automation is viewed as a commodity, when in actuality, once the equipment is put in place and starts depreciating, automation is what drives profitability within a manufacturer's operation. With expertise in navigating the complexities of process automation, our team at Cybertrol Engineering empowers food processors to optimize their existing infrastructure and prioritize automation initiatives that align with long-term goals.
Harnessing Automation for Multi-Faceted Benefits
Labor-related challenges within the food processing industry have been an ongoing issue for many years now. The adoption of automation solutions enables producers to decrease their reliance on manual labor by effectively mitigating the risks associated with labor shortages and safeguarding against potential disruptions in operations. By harnessing the power of automation, Cybertrol allows engineers to elevate their role and contribute to their organization's success. With our support, manufacturers can dedicate their expertise to driving innovation and improving overall manufacturing excellence.
Due to the nature of stringent regulations in the food and beverage industry, quality and compliance are high on the priority list. Automation also enables better resource utilization and waste reduction. Processors can closely monitor and regulate variables such as temperature, pressure, and ingredient ratios, ensuring optimal production conditions and minimizing product waste. By automating repetitive and time-consuming tasks like ingredient mixing, filling, and packaging, we help manufacturers significantly increase production rates while ensuring consistent accuracy and quality. Additionally, automation solutions drive standardization across food manufacturing operations. By enforcing standard operating procedures (SOPs) and enabling better process control, automation empowers manufacturers to continuously improve their operations and drive overall efficiency.

Where to Start
The first step in designing and implementing a custom automation solution involves conducting a comprehensive feasibility and concept analysis of the existing operations and data. This serves as the foundation for the subsequent stages. A detailed design and firm cost estimate are provided, followed by the on-site execution phase, which encompasses engineering oversight, construction, and system installation and startup services.
Although Cybertrol continues to implement solutions throughout food processing facilities, we have found that our batching solutions have made the most impact for our customers. By optimizing this process, we have increased throughput, decreased downtime and rework, and improved quality by understanding our customers' challenges in automating these processes. We also provide value-add solutions, such as integrating and automating our customers' recipes that are stored in their ERP systems, which historically required clipboards and paper. Our Front End Engineering Design (FEED) studies enable clients to approach automation projects with clarity and foresight. This proven process enables clients to address complex and ambiguous problems systematically, ensuring that the needs and outcomes of all stakeholders are well-defined from the outset.
When conducting initial automation assessments, we adopt a holistic approach. With an initial emphasis on understanding the executive team's perceptions of deficiencies in the current systems, this step helps narrow down the focus. Interviews with production managers, leads, and operators provide valuable insights into areas of concern. Depending on the project, the goals may include optimizing operations to combat labor shortages and reduce labor cost. Other projects may not replace operators but empower them with tools to optimize production and reduce errors. The prioritization process involves identifying highly repetitive tasks, operations that require minimal internal training, and complex operations that closely resemble automated processes.
Areas to Focus on When Automating
After the assessment, we collaborate with stakeholders to select projects that offer the best return on investment (ROI). These projects may range from data acquisition improvements to machine control retrofits or multi-year upgrade plans. Our value-added solutions include integrating and automating our customers' recipe management, which eliminates the need for manual processes involving clipboards and paper. It is easy to add automation into the cleaning and process systems in a facility, but only if the end user is willing to add the necessary instrumentation to allow for automated control. For example, Cybertrol has some tried-and-true improvements around clean-in-place (CIP) systems that would not take a lot of effort to implement, but getting the end user to add instrumentation to allow this type of improvement can be the initial hurdle.
Another easy automation improvement is implementation of our PalletWorks Integrated Packaging tracking and labeling software product. With PalletWorks, we can control the printers, labelers, and verification systems and transmit the tracked data all the way to the palletizer, then perform transactions into the ERP. The ease of PalletWorks is that it eliminates rework due to end-of-line equipment malfunction or human error.
There are a lot of opportunities to collect data and optimize the control system to improve production, and by default improve profits. A simple example is by improving the operation of a batching system – we have a case study showing that we were able to improve the output of a batching system by 67%, going from 30 batches to 50 batches within a shift.
Legacy Systems and Costs
Our biggest challenge with existing facilities is when there is a lack of a best-practice infrastructure in place, as well as not having plant standards for automation. These are common areas that we can help our customers with, both by assessing and designing best-practice network and automation infrastructures, as well as helping the end user define how they want the entire system to be interconnected. Ensuring that the operators see common standards from one piece of equipment to another is very important to us, and we consult on this very often.
At Cybertrol, we have observed that upgrading legacy systems presents unique challenges when it comes to convincing clients of automation benefits. These systems are currently operating their facilities, and convincing clients to invest in replacements can be difficult, especially when the primary motivation is to avoid potential future downtime. The costs involved and defining a tangible return on investment for production becomes a complex task.
When processors prioritize cost reduction without considering the long-term benefits of automation, it becomes challenging to sell them on the idea of an upgrade. However, focusing solely on initial cost can hinder manufacturers from implementing a more robust system that minimizes downtime caused by legacy systems. Additionally, their reluctance to incorporate additional instrumentation may prevent the collection of valuable data required for production improvements.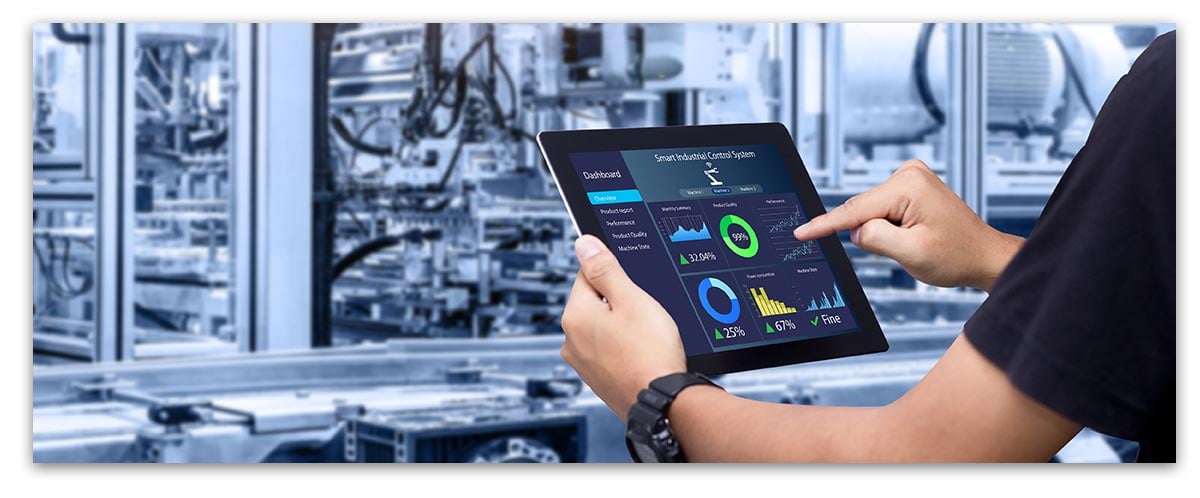 The Future of Automation
The future of automation in food processing holds immense potential for driving efficiency, productivity, and quality. As automation continues to advance, we emphasize the importance of considering ease of implementation and justifying the benefits to end-users. By leveraging automation, companies can enhance their operations, reduce manual labor requirements, and overcome challenges posed by legacy equipment. Cybertrol has expertise in identifying upgrade opportunities for legacy systems, ensuring seamless integration and avoiding future downtime.
We are seeing an increase in cloud-based data analytics and on-premise storage—this is a perfect solution to using strictly cloud-based infrastructure. We are moving forward with a hybrid solution of both on-premise and cloud. In many cases, operation of the plant floor needs to be directly connected to the on-floor controllers for safety reasons. I would say we are a couple of years out before there is a comfort level with having everything be cloud hosted. When dealing with data, there is less concern, because data can be stored locally and forwarded to the cloud in the case of a connection failure to the cloud-hosted system.
It is becoming more of a possibility to move business applications to the cloud with the continued advancement of edge devices that can interact with the controls on the platform. Business applications are very suited to be hosted in the cloud. Examples are ERP systems and MES systems, both hosted in the cloud and able to exchange data between platforms for real-time decisions, which is becoming more and more common.
Looking ahead, our team highlights the significance of automation in addressing labor shortages in the food processing industry. Automation solutions enable engineers to focus on their core tasks rather than spending excessive time on legacy equipment maintenance. By streamlining processes and optimizing operations, automation allows for increased productivity and improved overall efficiency. As the future unfolds, automation will continue to revolutionize industries, including food processing, by enabling streamlined operations, reducing errors, enhancing productivity, and meeting evolving customer demands. Embracing automation with guidance is crucial for staying competitive and embracing the transformative power of automation.
About Cybertrol Engineering
Founded in 1996, Cybertrol Engineering is a nationwide CSIA certified industry-leading control and information systems integrator that develops, implements, and supports plantwide automation systems, industrial IT/OT networks, and manufacturing intelligence solutions. With a plantwide approach, Cybertrol helps manufacturers deliver appropriate information to all users, allowing facilities to run at maximum efficiency, with the greatest visibility for corporate, management, and plant floor operations. With a deep history in manufacturing intelligence, Cybertrol's solutions help clients across industries like dairy and cheese, food and beverage, industrial, and life sciences effectively view and analyze operations by providing plantwide information systems at each site, aggregating data for enterprise dashboards, and implementing proven manufacturing intelligence strategies.
Read the full article here.