Together with Chris Vaidean, Information Software System Integrator Manager for North America and Dan Lamb, Partner Enablement Consultant for Rockwell Automation, Cybertrol recently hosted an extensive training session at the company's Marshfield, WI, branch. In attendance were members of the sales team, applications engineers, senior-level managers, and key stakeholders involved in the Plex, by Rockwell Automation partnership program. This initiative underscores the dedication of both Cybertrol and Plex, by Rockwell Automation, to ensure that their teams are equipped with the knowledge and insights needed to deliver unparalleled value to clients.
Article by John Tertin, Director of Solutions Engineering at Cybertrol Engineering

The dynamic collaboration between Cybertrol and Plex, by Rockwell Automation, two industry leaders united by a common goal of revolutionizing IT/OT integration across various industry sectors, continues to solidify. With Plex, by Rockwell Automation's dedication to cloud-delivered smart manufacturing solutions and Cybertrol's expertise delivering manufacturing execution system (MES) solutions, the collaboration exemplifies a proactive and comprehensive approach. Together, we bring thought leadership and industry excellence, unlocking manufacturing possibilities on a global scale. Cybertrol has a dedicated Industrial IT team with deep-level network experience to ensure clients are safe and secure, underpinned by the process and production knowledge that our automation engineers provide.
"Cybertrol has been a thought leader for years and has built an application team with deep, rich experience for app development," says Chris Vaidean of the collaboration. "Cybertrol's food and beverage experience puts them in a unique position to understand the business problems that customers are facing and bring rapidly deployable solutions with high value."
Empowering Teams through Comprehensive Training
A recent intensive training session showcases the partnership's emphasis on continuous improvement and mutual growth. It was a jam-packed day of working sessions and interactive discussions that brought together sales, engineering, and key stakeholders from both our staff at Cybertrol and teammates from Rockwell Automation. Cybertrol is in a unique position to bridge the IT and OT world because we have deep, rich OT experience and know how to implement it successfully in an IT world. Recognizing the value of a well-informed and capable team, Cybertrol and Plex, by Rockwell Automation have made a substantial effort to ensure that our respective members are equipped with the latest insights, industry trends, and technical knowledge. The training was designed to provide a comprehensive understanding of the partnership's goals, technological innovations, and collaborative strategies.
"With their early adoption and total embracement of cloud technology, it is wonderful to see the overwhelming commitment and dedicated focus that Cybertrol, as an organization, brings to our partnership," said Chris Vaidean. "We are confident that Cybertrol can use Plex, by Rockwell Automation to assist end users solve their business problems by improving control of their manufacturing facilities."
Application engineers were engaged in hands-on technical workshops that delved into the intricacies of integrating OT and IT systems. These workshops covered topics such as data synchronization, real-time monitoring, predictive analytics, and cloud-based solutions. The engineers had the opportunity to work with simulated scenarios, allowing them to gain practical experience in designing and implementing integrated solutions tailored to clients' specific needs.
Strategic Vision of Plex and Cross-Functional Dialogue
The Plex, by Rockwell Automation program's value proposition unfolds across various planes depending on the demands of the market, with a focus on scalability that addresses low-hanging fruit and gradually branching into more complex realms. As is known within this industry, seamless integration sets the stage for efficiency and accuracy of production processes. With that in mind, the Plex platform provides not only batching parameters and scales based directly on product formulation, but also enforcement of constraints and regulations pertaining to the food industry such as allergens, kosher products, etc. Performance monitoring and information management is made easier by hosting all product information in a central platform, which includes formulations, lab testing requirements, allergen/kosher/other statements, lot numbering, shelf-life management, cost structures, HACCP and more. With a strong emphasis on pillars such as quality, fluid production, maintenance/ monitoring and management, Plex, by Rockwell Automation provides an adaptable framework for a multitude of needs.
As experts in manufacturing, Cybertrol along with key stakeholders were involved in strategy sessions that explored the long-term vision of the partnership. These sessions encouraged open dialogue and brainstorming, enabling participants to contribute their insights and perspectives on how the collaboration could evolve to meet the ever-changing demands of the market. Feedback and evaluation were integral parts of the training process. Regular check-ins and Q&A sessions allowed participants to seek clarifications, share their thoughts, and provide input on how the training could be further improved.
Translating Plans into Action
Underscoring the practical applications of the partnership's ideals, the training session facilitated a clear alignment between the strategic direction of the collaboration and the day-to-day actions of team members. By ensuring that all parties involved are well-versed in the value proposition and technological intricacies, Cybertrol and Plex, by Rockwell Automation have set the stage for seamless and effective communication with clients.
As the partnership evolves, Cybertrol and Rockwell Automation continue to demonstrate thought leadership and innovation. Their ability to consult, implement, and manage services within the IT-OT landscape exemplifies their dedication to customer success. With an eye on the horizon and an unwavering commitment to advancing technology, Cybertrol and Plex, by Rockwell Automation lead the charge toward a future where IT and OT seamlessly converge, opening new doors of opportunity for businesses worldwide. With a shared vision for transformative technology integration, these two industry leaders are poised to shape the future of business operations. As they continue to innovate and adapt, Cybertrol and Plex, by Rockwell Automation remain steadfast in their mission to bridge the gap between IT and OT, unlocking endless possibilities for businesses across the globe.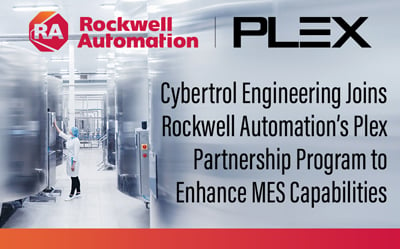 ---
About Plex, by Rockwell Automation
Plex, by Rockwell Automation, is the leader in cloud-delivered smart manufacturing solutions, empowering the world's manufacturers to make awesome products. The Plex platform gives manufacturers the ability to connect, automate, track and analyze every aspect of their business to drive transformation. The Plex Smart Manufacturing Platform includes solutions for manufacturing execution (MES), ERP, quality, supply chain planning and management, Industrial IoT and analytics to connect people, systems, machines, and supply chains, enabling them to lead with precision, efficiency, and agility.
About Rockwell Automation
Rockwell Automation, Inc. (NYSE: ROK), is a global leader in industrial automation and digital transformation. We connect the imaginations of people with the potential of technology to expand what is humanly possible, making the world more productive and more sustainable. Headquartered in Milwaukee, Wisconsin, Rockwell Automation employs approximately 24,500 problem solvers dedicated to our customers in more than 100 countries. To learn more about how we are bringing The Connected Enterprise to life across industrial enterprises, visit www.rockwellautomation.com.
About the Rockwell Automation PartnerNetwork™
Rockwell Automation believes we're better together—and we do our part by delivering an expansive, global partner ecosystem of market-leading technology, superior support and services, and an integrated and streamlined approach to business. Succeed on an international scale by utilizing our network's breadth of innovative technologies and services that no single vendor can provide alone. To learn more about how the PartnerNetwork™ is helping to deliver the value of The Connected Enterprise, visit PartnerNetwork Program | Rockwell Automation United States.
Media Contact - Rockwell Automation
Mario R. Martin
Manager, Global Public Relations
Rockwell Automation, Inc.
+1 414-374-2917
MRMartin@ra.rockwell.com